Archive of Monthly News Items
As previously featured in the History Centre

October 2019
October 2019
THE BOULDNOR SITE THAT KEEPS ON GIVING

More information and pictures have been released following the latest revelation from the underwater archaeology at Bouldnor. This important Stone Age site was discovered in 2005 and has already rewritten British prehistory in setting back the transition from hunter-gatherers to settled communities by 2,000 years. The recent discovery of a timber construction adds a level of skills not previously anticipated in the Late Mesolithic period.

It had always been assumed the advancing neolithic culture on the continent had been delayed in reaching Britain because rising sea levels had broken the land connection with our neighbours. The evidence for imported wheat on the Bouldnor site dated 8,000 years ago suggests a settlement beyond hunter-gatherers that must have been subject to continental influence. At this time the English Channel had already made inroads in the south but Britain was still connected further north.
This latest discovery on the site is a multi layer timber structure that appears to have been alongside a stream. One conclusion is it was a platform for boat building. A boat at this time could have been little more than a hollowed out tree trunk.
The land that is now eleven metres below sea level would have been above sea level at the time and perhaps connected via waterways to other local settlements. There is of course much that is still unknown about the people who inhabited this settlement but it remains one of the most important and intriguing archaeological sites in Britain.



The feature as identified before excavation.

The structure revealed under excavation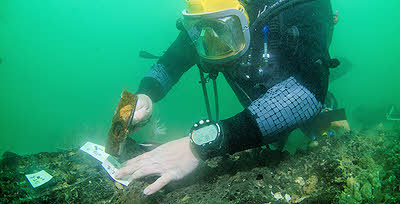 Site Director, Garry Momber, tagging the excavation.


Lower layer of the construction, made using stone tools.



There are many problems associated with underwater archaeology. The silting over of the archaeology is a major factor in its preservation but once the feature is excavated there is no method of preserving it in situ, so everything has to be lifted as soon as possible. This process adds to the expense of such operations. The local Maritime Archaeology Trust are responsible for the site and rely heavily on financial support from the public.